What Are Australian Multigenerational Labradoodles?
Coveted the world over for their hypoallergenic, low to nonshedding coats and relative lack of "doggy" odor, these dogs have been described as: easy to train, smart, sociable, good with children, get along well with other dogs, loyal and happy. They have wavy hair in varying colors, including: black, chalk, cream, apricot, red, chocolate, cafe and silver. Labradoodles have large friendly eyes, but they don't have the prissy look that some people dislike about poodles.
Labradoodle Characteristics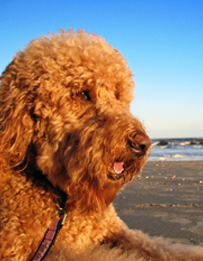 Height Miniature: 14-16 inches high; Medium: 17-20 inches high and Standard: 21-24 inches high
Colors: black, chalk, cream, apricot, red, chocolate, cafe, gold, parchment, and silver
Coat: three types – wooly, fleece, or hair (four – six inches in length)
Life expectancy: about 12-15 years

Brief History of Labradoodles
In 1989, Wally Cochran bred the first Labradoodle looking for a hypoallergenic guide dog. After his success, Rutland Manor and Tegan Park continued his work striving to perfect the breed by carefully infusing several other breeds to the Labradoodle creating what is now known as the Australian Labradoodle.
In 1989 Wally Cochran breed the first labradoodle looking for a hypoallergenic guide dog.
The Australian Labradoodle has developed into a great family dog with a wonderful temperament and low to nonshedding coats. They are smart, playful and easy to train. They are sought after as guide dogs and as therapy dogs.